Be sure to tune in at 4.45 this Monday, July 3rd, for the first in a great new television series from Southern...
The Famous Five!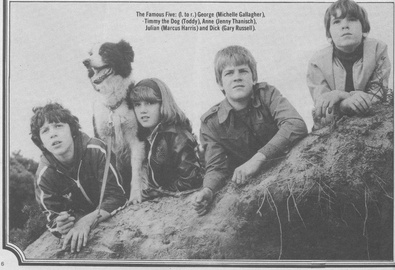 Being one of the intrepid band of young investigators collectively known as The Famous Five is certainly not an easy task. That's just what Look-in reporter Terry Tatnell discovered when she recently visited them on location at Exbury, near Southampton.
They were shooting a scene for a future episode of the series which, as if you didn't already know, is based on the best selling Famous Five books by Enid Blyton. The characters, Julian, Dick, George and Anne, are played, respectively, by Marcus Harris, Gary Russell, Michelle Gallagher and Jenny Thanisch. Not forgetting the fifth member, of course, Timmy the dog, played by a beautiful border collie called Toddy. They were all having a hard time trying to keep cool as the temperature soared to a blistering 80 deg. F – especially as they had to wear jeans and anoraks (except Toddy, needless to say!) while being filmed with bright arc lights as well as the sun beating down on them! Toddy's solution was to dive under the nearest van to rest in the shade – a retreat not so easily accessible for the rest of the crew who had to make do with umbrellas!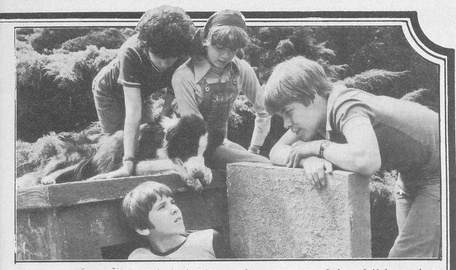 It's a long and tiring day for them, too. Up at 6.45 a.m., they don't usually finish filming until about 6.00 in the evening and during the day they have to have a break for three hours to get down to the more mundane job of studying school books. And they're not too keen on having to go to bed at 9.30, either. But they all agreed that, on the whole, making the series has been great fun, particularly as they get on so well with each other. Jenny had her reservations, however, abouth their being together for practically twenty-four hours a day, five days a week, because tempers do, apparently, tend to get a little frayed at times!
While they're on location, the children are staying in a lovely big house with huge grounds in the New Forest – an idyllic setting indeed for relaxation or a romp in the grass – and there's even a wood at the end of the garden. Their only complaint is that they haven't got a swimming pool – oh well, you can't have everything!
At weekends they each go their separate ways to spend the time at home with their parents. Jenny's family runs a pub in Laleham, Middlesex, where she says she gets a little embarrassed when she's recognised as a TV star by the costumers – though it's hardly surprising that they know her face well because Jenny's quite an old hand in television. Among other things, she's appeared as the young Lorna in Lorna Doon and as Jack Regan's daughter in The Sweeney.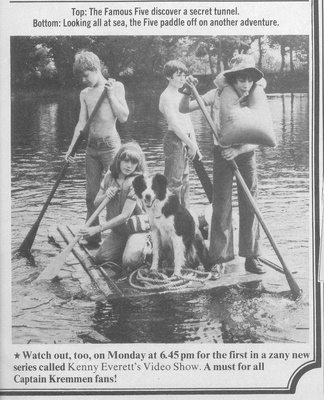 Marcus goes home to Woodcote in Berkshire and Gary, who has also appeared on television before, in the highly successful BBC series The Phoenix And The Carpet, returns to Maidenhead. The odd one out is Michelle who attends a boarding drama school, so the only time she gets to see her parents, who live in London, is during the school holidays.
When asked how their families felt about them playing the roles of The Famous Five, the unanimous answer was "very proud", but they have to put up with a little jealousy from some of the children they know, though most of their friends are delighted for them.
As for their own feelings about being in the series, they are all thrilled. "It's like we're living out our own fantasies," said Jenny "because we'd read most of the Famous Five books when we were a bit younger and found ourselves identifying with the characters, so it's great being able to actually play the parts for television."
The Five have had to be updated for the series because Enid Blyton's original characters were created in the 40's and 50's, and they are, obviously, nothing like the children of today. Some of television's top writers have been commissioned to re-write the adventures into scripts that will appeal to a whole new generation of Five fans and the young 'tecs now wear t-shirts, jeans and sneakers. Wonder what Enid would have thought of that?! The other characters in the books have also been brought up to our time – Aunt Fanny now wears wellies while tending her organically grown vegetables and Uncle Quentin is no longer an ordinary scientist but an environmental chemist involved in ecology. Although the people have changed slightly, the writers have kept faithfully to the most important aspect of the books – Miss Blyton's marvellously imaginative stories. They're tremendous espacism, to be sure!
In fact, it's a jolly good show!
picture subtitles
picture of Mystery Moor: The Famous Five: (l. to r.) George (Michelle Gallagher), Timmy the Dog (Toddy), Anne (Jenny Thanisch), Julian (Marcus Harris) and Dick (Gary Russell)
picture of (with tunnel): The Famous Five discover a secret tunnel
picture of (with raft): Looking all at sea, the Five paddle off on another adventure.
Source/Quelle: Look-In-Magazin